CACHET Hotel Group (CHG)  announced the debut of its first resort development, Cachet Corazon, in Cabo San Lucas, Mexico. Owned and developed by Cabo Villas Beach Resort and Spa (CVBR), the project will mark CHG's first resort destination project in the world.
With stunning panoramic views of the Sea of Cortez, Cachet Corazon will be located on the famous Medano Beach, within walking distance to the Cabo San Lucas Marina, the Puerto Paraiso Mall and multiple nightlife and entertainment venues downtown. The fully integrated resort will further the brand's mission to offer innovative designs, personalized service and local experiences.
The resort will be a Cachet Beach and Cachet Deluxe dual-branded hotel development, scheduled to open in late 2016 and early 2018, respectively and will include multiple restaurants, pool terraces, a beach club and expansive meeting and events spaces.
"We are very excited to partner with CHG to bring the renowned global brand to Cabo," said Ilda Ledesma, developer of CVBR. "Cachet will bring a new level of innovation and offer the best of hospitality, design and nightlife that will appeal to a new generation of leisure travelers. The launch of this resort is revolutionary for the main beach of Cabo and will transform the landscape, leading the hospitality market place with a smart, efficient and well-designed resort."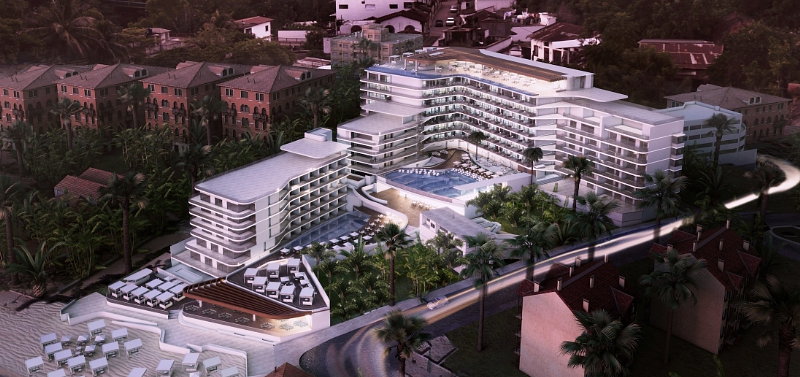 CHG will renovate an existing tower into a 77-room Cachet Beach. Opening in fall 2016, Cachet Beach will deliver fun and social guest experiences by offering stylized interiors, day and nightlife programming and social rooftop spaces. In parallel, construction is underway for a ground-up new hotel tower to debut as Cachet Deluxe in January 2018. The new development tower will include 204 guestrooms and suites, ranging in size from 624 to 645 square feet configured in bungalow style clusters of 3 units each to provide guests an authentic and intimate beachfront resort experience. Guestrooms will feature state-of-the-art technology and entertainment as well as private terraces, including some with outdoor Jacuzzis.
The property will be on CHG's revolutionary technology platform, Cachet World, which is a lifestyle community that features a search and booking engine for boutique and lifestyle hotels and high-end residences worldwide. The resort will have key features such as Personalized Hotel Rooms allowing guests to design their room and upgrade add-ons such as their choice of designer bedding, branded bath and body products, beauty essentials and other amenities. Guests will benefit from Interactive Mobility, which will increase service through mobile check in and check out, room service, in-room control for TV, entertainment, temperature and much more. Additionally, the Food and Beverage Personalization offers local experiences and recommendations based on individual and group preferences from in-room dining, hotel restaurants to social catering.
Source: Travel Agent Central